With the weekend upon us, South Africans across the country would typically be readying themselves for a two-day run of quality Super Rugby.
With that all scuppered, due to our collective current Covid-19 reality, SuperSport's strapping on its boots and, rather than broadcasting 90-minutes of adrenaline-fuelled field play, channel SS10 will proudly premier DHL Stormers & Friends, The Crossing "Osiyeza" behind-the scenes footage, captured when the entire team rallied behind an anthem that's significance now holds even more importance than the original motivation, pre lockdown and social distancing.
The 11-minute piece of history-in-the-making SuperSport premiere will be broadcast at 16:45 on Friday 17 April, and will be re-flighted across CSN, SS1, SS1A and SS10 from 19 April, through to 27 April in solidarity with a project that's original intention has been amplified due to our current lockdown in the face of Covid-19.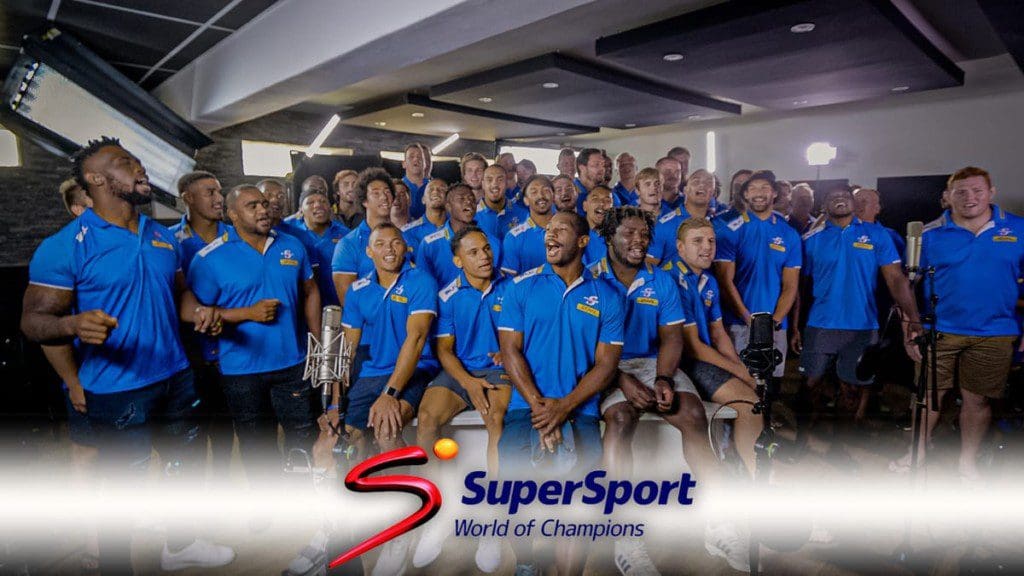 That passing remark was picked up by team Media and PR consultant Duncan Cruickshank, who decided to run with the impulse, and within days and after a number of phone calls to some of the most preeminent players within the South African music industry – along with Cape Town's Academy of Sound Engineering – all were onboard, pro bono, to capture and celebrate the late, great Johnny Clegg's seminal song The Crossing "Osiyeza".
What started out as a nearly lost afterthought immediately took on a life of its own; and before anyone could quite blink, respected musician and vocal coach RJ Benjamin was on a plane in mid-February, en route to Cape Town from Joburg, to audition the entire DHL Stormers squad for what has become a classic reinterpretation of a quintessential anthem.
With the finest of the DHL Stormers voices selected, the next step was to marry each of the selected players with a professional musician to complement the four-minute-long, goose-bumps-inducing chorus.
A good few more phone calls later, informed by Music Exchange (MEX) founder Martin Myers, and dates were quickly and seamlessly confirmed for the first week of March 2020, where RJ Benjamin (singer/songwriter and vocal coach on Idols and Voice SA), Heinrich Frans (lead and backing singer for the likes of Josh Groban, Jonathan Butler and Diana Ross), James Stewart (Emmy-nominated composer and lead singer of the 90s group The Usual), along with 12 Stormers players, joined Francois van Coke, Zolani (Freshly Ground), Paxton (2017 Idols winner), Amy Tjasink (2019 The Voice SA finalist), Amy Jones (singer/songwriter), Chantal Stanfield (Getroud met Rugby), Chad Saaiman (singer/songwriter), Josh Hawks (bass player), Dan Shout (saxophonist), Mornay Hofmeester (drummer) and comedian and actor Marc Lottering.
Besides coaching and performing on the track RJ Benjamin, along with Peter Pearlson, also produced the recording.
The end result, thanks to the tireless commitment of each voluntary conscript is nothing shy of a humbling, endearing testament to not only what makes Cape Town, but South Africa great.
So, get your popcorn and favourite beverage ready and cosy up on your couch on Friday, 17 April, at 16:45 and get ready to go behind-the-scenes and celebrate solidarity in song.
iamastormer #dhldelivers
Supersport Flighting Schedule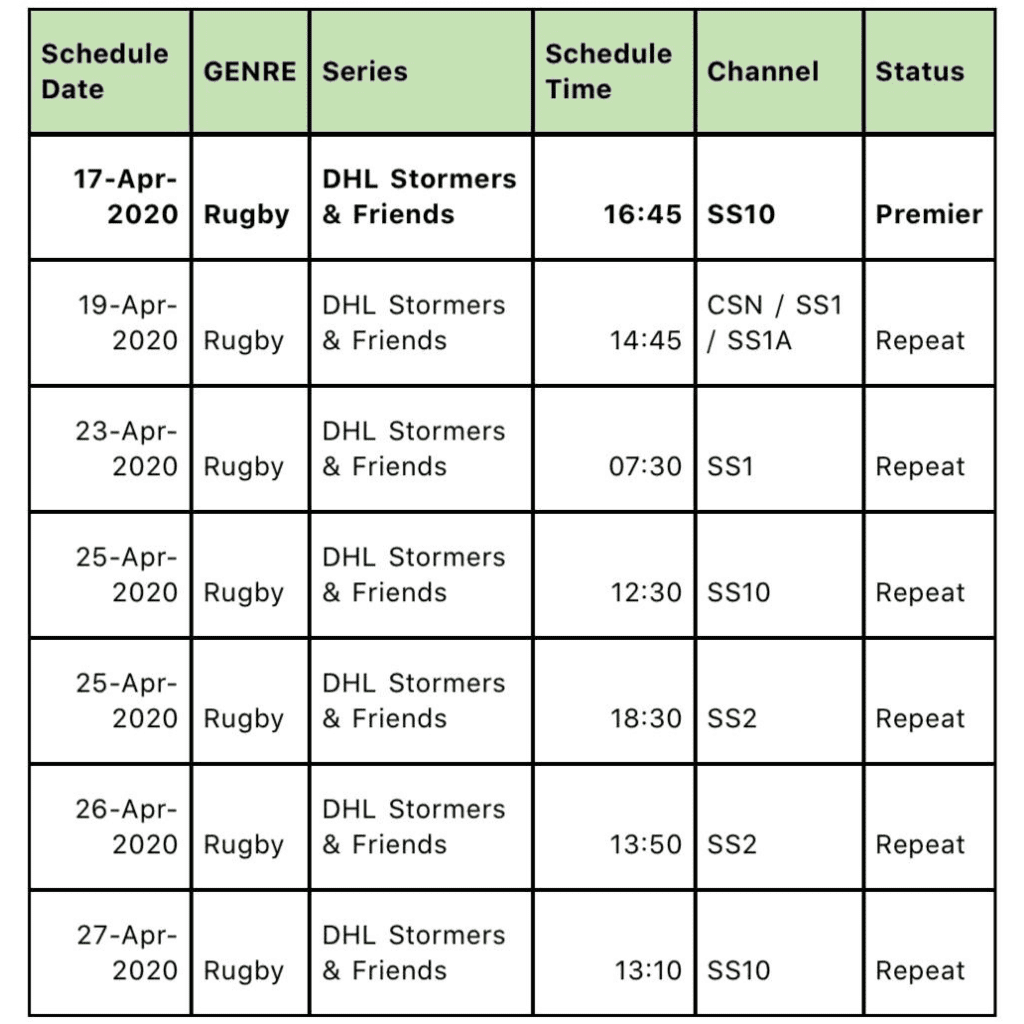 Notes to the editor:
All royalties and performing rights will remain with the Johnny Clegg Family Trust and donated to the . All artists involved performed without any payment, fees or royalties. The DHL Stormers chosen to sing "solo" were: Ali Vermaak, Neethling Fouché, Chris van Zyl, Sihle Njezula, JD Schickerling, Herschel Jantjies, Scarra Ntubeni, Matt More, Trokkie Augustus, Jamie Roberts, Steven Kitshoff, Seabelo Senatla and captain Siya Kolisi.