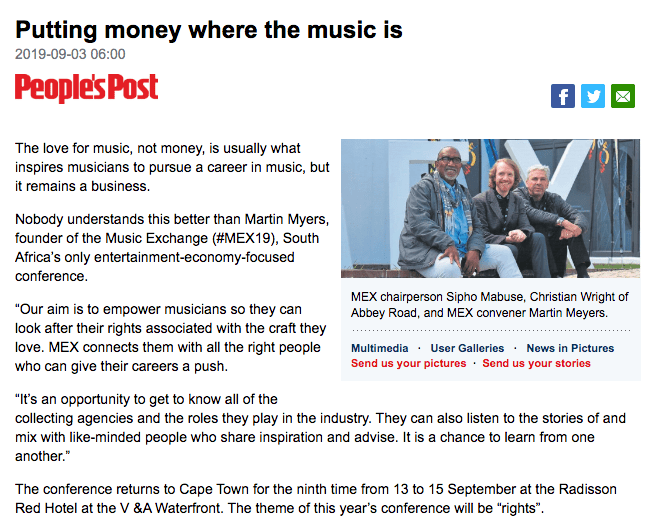 Originally published on News24 04/09/2020:
https://www.news24.com/SouthAfrica/Local/Peoples-Post/putting-money-where-the-music-is-20190902
"The love for music, not money, is usually what inspires musicians to pursue a career in music, but it remains a business.
Nobody understands this better than Martin Myers, founder of the Music Exchange (#MEX19), South Africa's only entertainment-economy-focused conference.
"Our aim is to empower musicians so they can look after their rights associated with the craft they love. MEX connects them with all the right people who can give their careers a push.
"It's an opportunity to get to know all of the collecting agencies and the roles they play in the industry. They can also listen to the stories of and mix with like-minded people who share inspiration and advise. It is a chance to learn from one another."
The conference returns to Cape Town for the ninth time from 13 to 15 September at the Radisson Red Hotel at the V &A Waterfront. The theme of this year's conference will be "rights".
Digital monetisation and understanding your rights, be it legal (including what a proper legal contract looks like and how to navigate the small claims court), or rights in the digital economy, all will be unpacked, demystified and opportunities explored at MEX19.
Myers says this is an ideal opportunity for established or ambitious young artists, publicists, producers, DJs, managers, venue owners, record labels and agencies to gain invaluable insight."