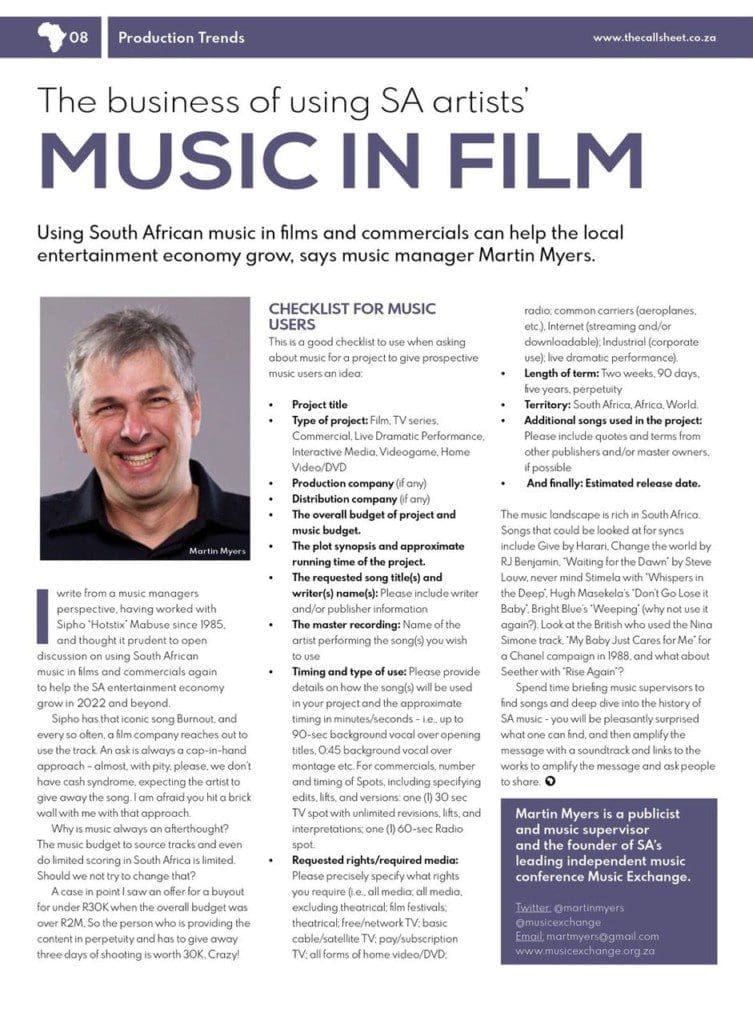 Using South African music in films and commercials can help the local entertainment economy grow, says music manager Martin Myers.
I write from music manager's perspective, having worked with Sipho "Hotstix" Mabuse since 1985, and thought it prudent to open discussion on using South African music in films and commercials again to help the SA entertainment economy grow in 2022 and beyond.
Sipho has that iconic song Burnout, and every so often, a film company reaches out to use the track. An ask is always a cap-in-hand approach — almost, with pity, please, we don't have cash syndrome, expecting the artist to give away the song. I am afraid you hit a brick wall with me with that approach.
Why is music always an afterthought?
The music budget to source tracks and even do limited scoring in South Africa is limited. Should we not try to change that?
A case in point, I saw an offer for a buyout for under R30K when the overall budget was over R2M. So, the person who is providing the content in perpetuity and has to give away three days of shooting is worth 30K, Crazy!
CHECKLIST FOR MUSIC USERS
This is a good checklist to use when asking about music for a project to give prospective music users an idea:
Project title
Type of project: Film, TV series, Commercial, Live Dramatic Performance, Interactive Media, Videogame. Home Video/DVD
Production company (if any)
Distribution company (if any)
The overall budget of project and music budget.
The plot synopsis and approximate running time of the project.
The requested song title(s) and writer(s) name(s): Please include writer and/or publisher information
The master recording: Name of the artist performing the song(s) you wish to use
Timing and type of use: Please provide details on how the song(s) will be used in your project and the approximate timing in minutes/seconds-i.e. up to 90-sec background vocal over opening titles, 0:45 background vocal over montage etc. For commercials, number and timing of Spots, including specifying edits, lifts, and versions: one (I) 30 sec TV spot with unlimited revisions, lifts, and interpretations: one (I) 60-sec Radio spot.
Requested rights/required media: Please precisely specify what rights you require (i.e.. all media; all media. excluding theatrical; film festivals; theatrical: free/network TV; basic cable/satellite TV: pay/subscription TV: all forms of home video/DVD; radio; common carriers (aeroplanes. etc.). Internet (streaming and/or downloadable): Industrial (corporate use); live dramatic performance).
Length of term: Two weeks, 90 days, five years, perpetuity
Territory: South Africa, Africa, World.
Additional songs used in the project: Please include quotes and terms from other publishers and/or master owners. if possible
And finally: Estimated release date.
The music landscape is rich in South Africa. Songs that could be looked at for syncs include Give by Harari, Change the world by RJ Benjamin. "Waiting for the Dawn" by Steve Louw, never mind Stimela with Whispers in the Deep. Hugh Masekela's "Don't Go Lose it Baby. Bright Blue's "Weeping' (why not use it again?) Look at the British who used the Nina Simone track. "My Baby Just Cares for Me' for a Chanel campaign in 1988, and what about Seether with "Rise Again"?
Spend time briefing music supervisors to find songs and deep dive into the history of SA music you will be pleasantly surprised what one can find and then amplify the message with a soundtrack and links to the works to amplify the message and ask people to share.
Martin Myers is a publicist and music supervisor and the founder of SA's leading independent music conference Music Exchange.
Originally published in The Call Sheet, March 2022